Formed in 2014, the Amy Ryan Band quickly established a strong following for themselves on the Capital Region music scene as the winners of the Capital Region Blues Network's 2015 qualifying competition to represent the Capital Region at the International Blues Challenge in Memphis, Tennessee in January 2016.
In 2021 the band released its first album "Shake and Shimmy" to critical acclaim:
"….on Johnny "Guitar" Watson's "Want Me Some Love" – the disc's opening track – I'm in blues heaven. Within the first sixty seconds of the song, Amy already showcased her softness, her strength, and her amazing vocal range – and with over five minutes to go she had already put a smile on the Blewzzman's face…."
"As soon as the album starts off, the band instantly makes clear to its listeners many of their musical influences. Steeped in blues, swing, and soul, much of this album is highly reminiscent of the musical stylings found on an assortment of classic albums from the late 1960's and early 1970's."
Lucas Garrett, Nippertown
In early 2022 Shake and Shimmy placed at #29 on the Roots Music Report's Blues Album chart (alongside heavyweight blues contenders such as the Tedeschi-Trucks Band and Tinsley Ellis). The album remained on RMR's Soul Blues Album chart for over 3 months – a major achievement for a self-released album.
For the second time since their inception in 2019 the Amy Ryan Band has been nominated for "Blues Artist of the Year" at the Capital Region Thomas Edison Music Awards ("the Eddies").
With a repertoire that includes band adaptations of Amy's self-penned solo tunes, newly minted originals and select covers the Amy Ryan Band rocks the blues.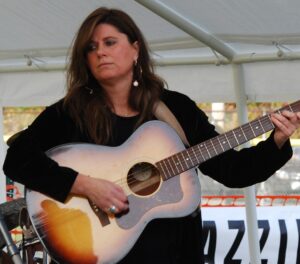 Amy Ryan
Lead Vocals and Guitar
Originally from New Hampshire and currently a resident of Castleton-on-Hudson, NY, Amy's bluesy voice and prowess as a songwriter quickly distinguish her from run-of-the-mill songstresses.  Whether accompanying herself on a finger-picked rural blues or wailing with the boys in the band she's got what it takes.
---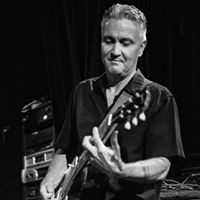 Richard Green
Guitar and Vocals
Originally from Sheffield, England, Richard's love and command of the blues fits Amy's voice like a glove.  Richard has been active in blues and blues-rock bands since he played with Sheffield, England outfit "Steppin' Out" in the early '90's.  He also logged a number of years with Columbia County-based blues band "Kid Kurt and the Bad Boys".
---
Ed Stein
Keyboards
West Stockbridge, MA resident, Ed is a veteran of many bands in many genres. Most recently he played with Western Mass outfits 8 Foot River and Mary Anne Palermo and First Take.
Dave Imbarrato
Bass
After a nearly 25-year hiatus from the instrument, Dave fell back in love with the bass in 2010 when he received an invitation to play some gigs from friends in Saratoga. Since 2010, Dave plays many styles and has had great success playing in contemporary pop cover bands, the most recent being the Schenectady-based band, City Beat.
Mark McKay
Drums
Mark is a New York State Blues Hall of Fame inductee and played for many years with the George Boone Band. He was also formerly with the Rhett Tyler band and has played with many other Capital Region blues bands over the years.
The Amy Ryan Band won the 2015 band showdown and represented the Capital Region Blues Network at the 32nd International Blue Challenge in Memphis, TN, 2016. The following year, 2 Blue (Amy and Richard) won the 2016 solo/duo showdown and represented the Capital Region Blues Network at the 33rd International Blue Challenge in Memphis