Witnessing Amy's solo performances at open mic sessions in New York's Capital Region, guitarist Richard Green saw an opportunity to combine his own blues guitar chops with a gutsy female singer with the potential to lead a great blues band.  The Amy Ryan Band was soon born. Melding together Amy's rural blues mojo and Richard's urban blues and rock sensibilities this musical partnership is rounded out by bassist Dave Imbarrato, drummer Mark McKay and keyboard player Ed Stein. With a repertoire that includes band adaptations of Amy's self-penned solo tunes, newly minted originals and select covers the Amy Ryan Band rocks the blues.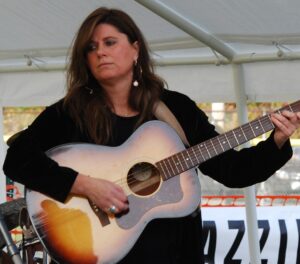 Amy Ryan
Lead Vocals and Guitar
Originally from New Hampshire and currently a resident of Castleton-on-Hudson, Amy's bluesy voice and prowess as a songwriter quickly distinguish her from run-of-the-mill songstresses.  Whether accompanying herself on a finger-picked rural blues or wailing with the boys in the band she's got what it takes.
---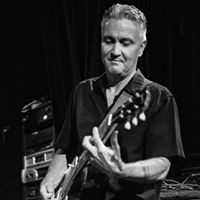 Richard Green
Guitar and Vocals
Originally from Sheffield, England, Richard's love and command of the blues fits Amy's voice like a glove.  Richard has been active in blues and blues-rock bands since he played with Sheffield, England outfit "Steppin' Out" in the early '90's.  He also logged a number of years with Columbia County-based blues band "Kid Kurt and the Bad Boys".
---
Ed Stein
Keyboards
West Stockbridge, MA resident, Ed is a veteran of many bands in many genres. Most recently he played with Western Mass outfits 8 Foot River and Mary Anne Palermo and First Take.
Dave Imbarrato
Bass
After a nearly 25-year hiatus from the instrument, Dave fell back in love with the bass in 2010 when he received an invitation to play some gigs from friends in Saratoga. Since 2010, Dave plays many styles and has had great success playing in contemporary pop cover bands, the most recent being the Schenectady-based band, City Beat.
Mark McKay
Drums
Mark is a New York State Blues Hall of Fame inductee and played for many years with the George Boone Band. He was also formerly with the Rhett Tyler band and has played with many other Capital Region blues bands over the years.
The Amy Ryan Band won the 2015 band showdown and represented the Capital Region Blues Network at the 32nd International Blue Challenge in Memphis, TN, 2016. The following year, 2 Blue (Amy and Richard) won the 2016 solo/duo showdown and represented the Capital Region Blues Network at the 33rd International Blue Challenge in Memphis